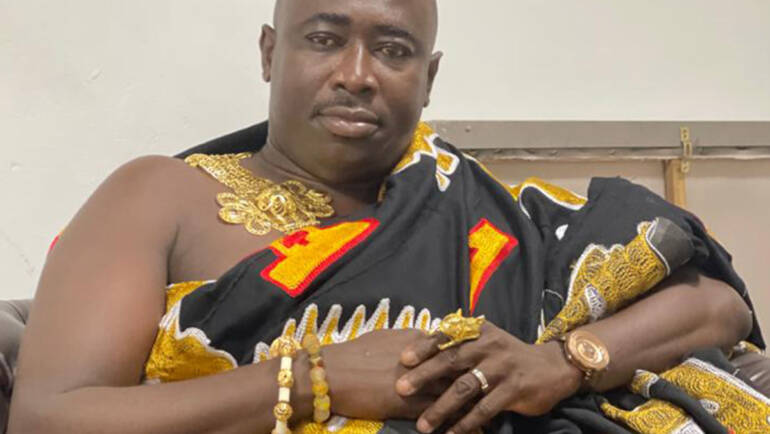 Nana Bediako Brogya Sarpong
Founder and President
Brief info
Nana Bediako Brogya-Sarpong, known in private life as Carl Brogya-Sarpong is Enstooled as the Dompiahene of Agogo Traditional area for his exemplary leadership and contribution towards the Development of Agogo Traditional Area.Nana was born to Ms.Comfort Sey,CEO of Mercy Misson for the Disabled and the late Mr.Kwame Brogya Mensah,a Timber Merchant and a former President of the Ghana Timber Association.
Nana attended Prempeh college,completed in 1999 and proceeded to University of Ghana to read Political Science and Philosophy and completed in 2005 and upon completion of his mandatory national service, traveled to the United Kingdom, where he lived and worked for a couple of years. After a few years in London, Nana returned home to take a job with Vanguard Assurance and doubled as a Director for Mercy Mission for the Disabled, a non-governmental organization founded by his mum and dedicated to the cause of the physically disadvantaged.
He later joined Barclays Bank Ghana, now Absa, starting from the Corporate Services Center and rose to become an Anti Money Laundering Analyst at the Compliance Unit. The Bank ultimately sponsored him to pursue an executive course in compliance at the Judge Business School at Cambridge University (UK). Nana worked with Barclays Bank for close to ten (10) years before leaving to found Brogya Resources Limited, an Upstream and Downstream Oil & Gas company where he is currently the CEO. Nana is also the Director of Legible link Consults Limited a General and Security printing company. He is also pursuing a degree in law at the Mountcrest University College.
Nana is passionate about entrepreneurship and motivating the youth for future challenges.He believes the Ghanaian can accomplish anything with the right leadership and training and is hoping to harness his newfound medium in the form of chieftaincy to drive that passion.
Nana was a skilled footballer in his youth, playing with the likes of Sulley Muntari but a passion his parents discouraged him from pursuing due to the lofty academic ambitions they had for their young son.